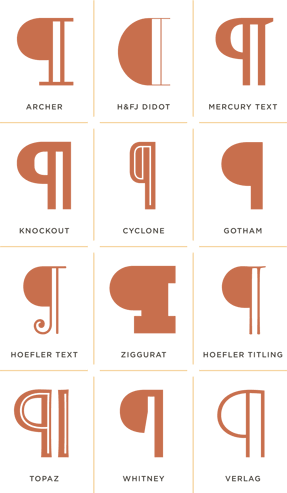 My last post made passing mention of the pleasures of designing the paragraph mark, prompting one reader to rightly ask, "how much fun can it really be to draw a backwards P?" [No more fun than it is to draw the rest of that font you're using, matey. —Ed.] It may not seem obvious, but the lowly paragraph mark really does offer ample opportunity for invention.
Like most punctuation, the paragraph mark (or pilcrow) has an exotic history. It's tempting to recognize the symbol as a "P for paragraph," though the resemblance is incidental: in its original form, the mark was an open C crossed by a vertical line or two, a scribal abbreviation for capitulum, the Latin word for "chapter." Because written forms evolve through haste, the strokes through the C gradually came to descend further and further, its overall shape ultimately coming to resemble the modern "reverse P" by the beginning of the Renaissance. Early liturgical works, in imitation of written manuscripts, favored the traditional C-shaped capitulum; many modern bibles still do. A capitulum is by no means out of place in a modern font, either: top row center is HTF Didot, whose neoclassical origins suggested the inclusion of a shape from antiquity.
Above, a pageant of pilcrows from some of our fonts, suggesting that the possibilities are indeed endless. There seem to be eight fundamental questions that inform the shape of the pilcrow: (1) Should the form be P-like or C-like? (2) Should there be one stroke or two? (3) Should the bowl be solid or open? (4) Should the bottom of the strokes be plain, seriffed, or flourished? (5) Should the top right corner finish with a serif or not? (6) Should the bowl exhibit contrast to match the alphabet, or be monolinear like the mathematical operators? (7) Should the bowl connect with the first stroke, the second stroke, both, or neither? (8) Should the character align with the capitals, or descend to match the lowercase? Together these simple decisions offer 768 possible outcomes, none of which even begins to anticipate the stylized can-opener of Whitney or the bent paperclip of Cyclone.
In any case, Pilcrow & Capitulum would make a fine name for a pub, and a grand place to host a typographers' wayzgoose. Or perhaps it's a buddy movie about crime-fighting bibliographers: Capitulum wears cable knit sweaters and drinks single malt, and Pilcrow is a ladies' man who drives an Austin Healey. Catch their madcap adventures. —JH