We're marking the change to H&Co with some updates to our font library, some new features on the site, and some good news for app developers.
Improved mobile fonts
We've remastered all 1,094 fonts in our library to deliver even more consistent performance across desktop, web, and mobile environments. In the past, we'd supplied app developers with special "mobile" versions of fonts built for iOS and Android — but starting today, any fonts you purchase for your computer will be the same ones you'll use when developing mobile apps.
Free updates for desktop fonts
We're building a new feature for the site that makes it easy to download your past purchases any time you need them, and to ensure that you always have the latest versions of our fonts. Today we're rolling this out to our Cloud.typography subscribers, and soon we'll be making it available to everyone. If you're a Cloud user, log in and go to Your Font Library under the "Welcome" menu, and you'll be able to see your entire font collection, and download the latest versions of any fonts you've licensed for your computer.
Streamlined app development
We've changed our licenses to make life a little easier for app developers. In the past, developers needed two kinds of licenses: an End-User License to use fonts on their computers, and a separate App License to embed these fonts in their apps. We've rewritten our EULA so that anyone buying a computer license can now use these fonts to develop apps, without any separate paperwork. App Licenses are needed only when publishing an app, something our licensing group can help arrange for you or your clients.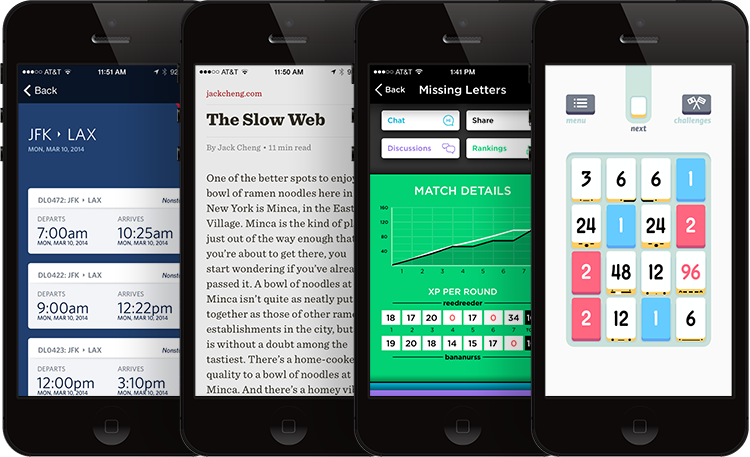 We'd like to thank all the designers and developers who've made our typefaces a part of your fantastic work. As people who are obsessed with designing fonts to solve problems, we love seeing all the ways you've used our fonts to improve familiar experiences, and create entirely new ones. We can't wait to see what's coming next. —JH