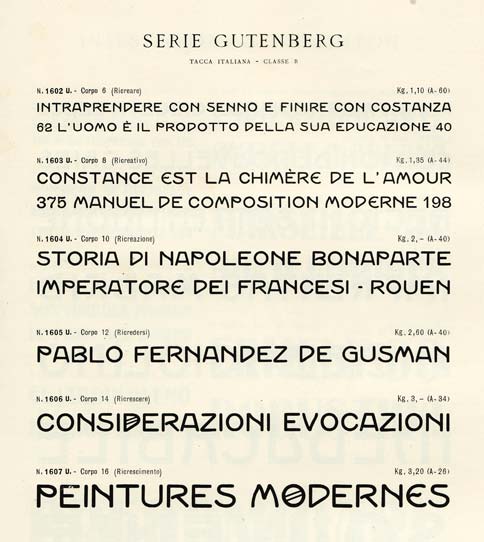 For as long as fonts have had names, they've had bad names. Historical inaccuracies have been common for two hundred years: typefounders of the Industrial Revolution groped for historical labels to apply to newly-invented styles (Egyptian, Gothic, etc.), and it wasn't long before typefaces began to bear the recognizable names of unrelated historical figures. Alongside the very un-Dutch Series Rembrandt, a nineteenth century French specimen book shows the Series Victor Hugo, unconnected with the author but doubtless hoping to cash in on his celebrity; Hugo was still alive at the time.
But most entertaining are faces like this one, which honor prominent figures from typography's own history. This charming face is from the 1928 type specimen of the Nebiolo foundry in Torino, and here we have a typeface full of Art Nouveau vigor, fresh from the window of a chic gelateria, or a cinema marquee. And what famous early twentieth century figure is it named after? Why, Johannes Gutenberg of course (d. 1468), father of movable type. Can't you just see Gutenberg stepping out of his Fiat GP racer, his handsome olive complexion set off by a rakish tweed cap?
It seems that most of the world's typefounders have suffered this cruel fate. Here are some especially juicy mistreatments.