You know this company: their logo's in Gotham, their website's in Gotham, there's Gotham in their outdoor advertising and their television spots. There's Gotham in the window of every branch, and inside, Gotham on the in-store displays and the printed brochures. And then the estimate you're given from their sales associate will be in Arial, your sign-up contract in Times Roman, and your next two years of monthly statements in something someone picked at the lettershop. Typography can be the least expensive and most effective way of reinforcing a brand, or the quickest way to dilute it.
Meet Office Fonts.
Office Fonts from H&Co allow everyone who speaks for the brand to use the same consistent voice. They're adaptations of some of our most popular typefaces, specifically created for use in the applications that generate personalized communications. They allow an organization's branding to extend beyond the projects that designers themselves create, to include the reports, proposals, statements, and presentations prepared by non-designers — often the bulk of how any organization communicates.
How They Work
People use the fonts that are easiest: the ones that live in their font menus, work in their software, look good on screen, and behave in familiar ways. H&Co's Office Fonts are designed for people who use word processors, spreadsheets, and presentation packages, allowing them to participate in the brand typography.
All Office Fonts from H&Co feature:
— Familiar Families. No one looking for "regular type" should have to choose between Book and Medium. In place of the more detailed palette of styles that can be confusing for both businesspeople and their software, H&Co's Office Fonts are provided in the customary four-style arrangement of Regular, Italic, Bold, and Bold Italic. Bold and Italic styles are mapped to the standard keyboard shortcuts B and I, to avoid the artificially "smeared" and "sloped" romans for which office documents are notorious.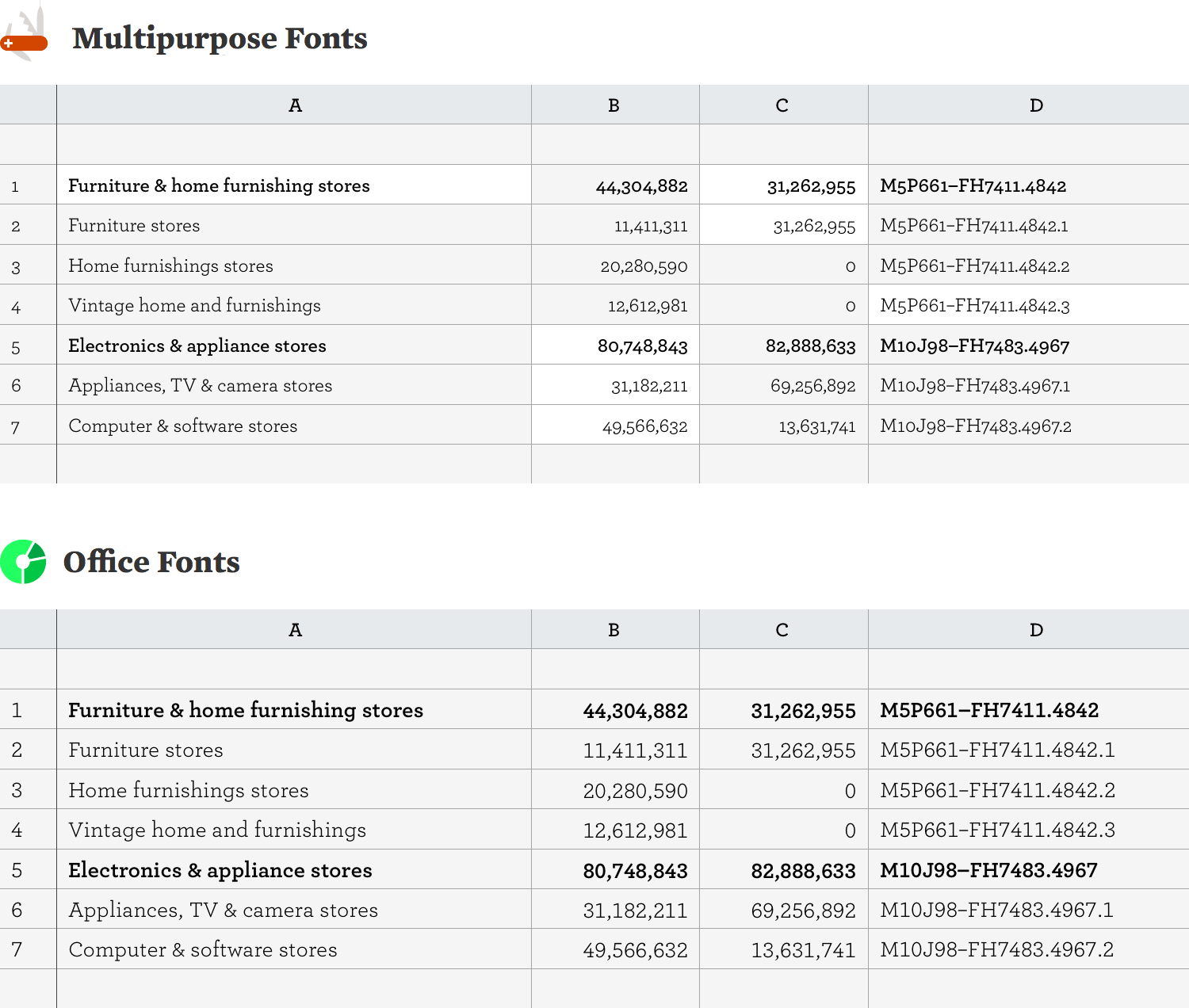 — Enhanced Clarity. H&Co's Office Fonts have a larger lowercase, a more generous fit, and clearer gestures, making them easier to read both on screen and in print (compare the A columns, above.) They have a heightened contrast between regular and bold styles, to make boldface type unambiguous (A1), and are engineered with ScreenSmart™ technology to render crisp and clear text on Windows.
— Friendly Features. Only a designer should have to contend with old-style figures, lining figures, or tabular figures. Office Fonts from H&Co include one and only one set of numbers, built on a fixed width to ensure that columns of numbers align neatly (B). Numbers are designed to the same width across all styles in a family, ensuring that highlighting text in boldface won't disrupt the grid (C). And all Office Fonts feature numbers that coordinate with both lowercase and capital letters, making complex syntax easier to read (D).
— Compatibility. Office Fonts from H&Co are produced in TrueType format, to support even the simplest (and oldest) business applications. The same font files can be installed on either Mac or Windows, making asset management and deployment easier.
Today we're introducing twelve families of Office Fonts, all of them available for purchase and download. Some coordinate with our best-known typefaces (which serve the world's best-known brands), Office Fonts for Gotham, Archer, Whitney and Sentinel. We're also introducing Office Fonts for some of our newest releases, including this year's Whitney Narrow and Operator. Below is just a taste of what Office Fonts can do.











Office Fonts by H&Co, from $199. Exclusively at typography.com.