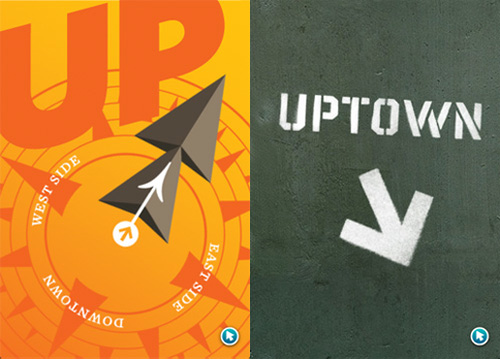 Manhattan's urban grid is a vaunted model of simplicity, a rectilinear plan of numbered streets intersecting numbered avenues. Never mind that West 4th Street crosses West 10th, that those walking from Fifth Avenue to Third Avenue will seldom encounter Fourth Avenue, and that "North" in the New York sense differs from conventional "North" to the tune of 29°. It's this kind of accuracy, transparency and accountability that makes New York the perfect home for Wall Street.
A fixture of the corner of Broadway and Houston, where H&Co makes its home, is a tourist population forever asking that question of the ages, "which way is uptown?" I can't entirely blame them: in the math of the NYC grid, Houston is 0th Street, and local signs wickedly conceal the real names of avenues below fake labels that are designed specifically to ensnare tourists. (Watch the meter when you ask a taxi driver to take you anywhere on "Avenue of the Americas.")
To the rescue comes our own Andy Clymer, whose joint interests in typography, programming, and human decency are combined in Uptown App, his new utility for the iPhone 3GS. Andy's thoughtfully used some of our fonts on what's actually a pretty handy app: because it uses the iPhone's built-in magnetometer, it can give you a quick read on "uptown" in places where GPS signals and cellular networks are unavailable or slow to come online, like when stepping out of freezing cold subway stations. Compared to the inconvenience of frostbite, 99¢ is a genuine bargain. —JH
Uptown App by Andy Clymer, 99¢ from the iPhone App Store.