While good typefaces have prodigious families of carefully related styles, some of the best typography builds unexpected relationships between unrelated fonts. Here are five ways to create typographic connections, to help keep your design engaging and inventive.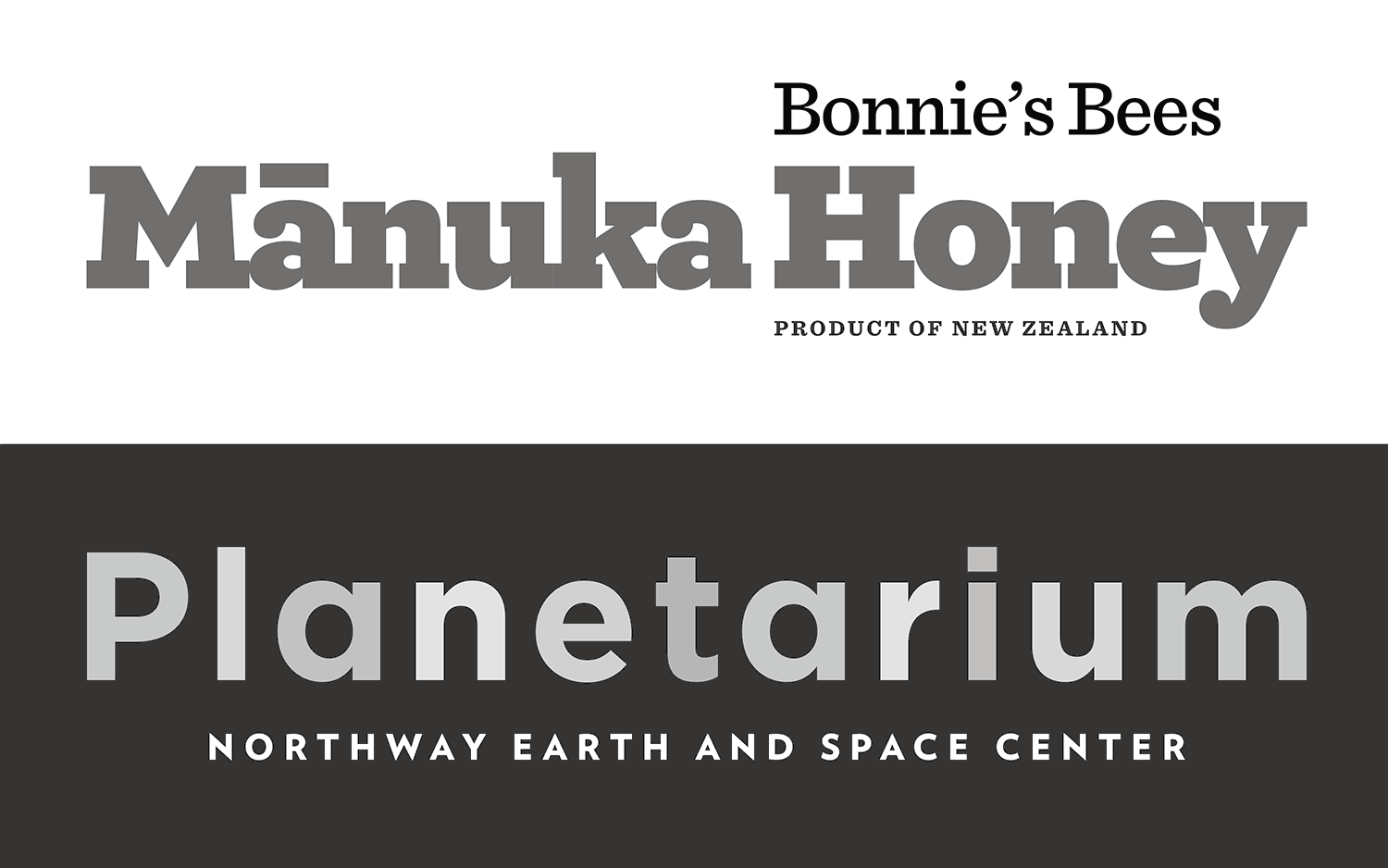 1. Avoid the Obvious

When reaching for a different weight, turning to a sympathetic but distinctively different typeface can add drama to a design. Sentinel and Archer are two slab serifs with very different origins — one a nineteenth century 'Antique,' the other a twenty-first century invention full of circular 'ball terminals' — but using them together adds visual interest to an otherwise muted composition. Among sans serifs, Verlag and Gotham are two plainspoken typefaces whose unique flavors are sharpened by the contrasting of their details, Verlag's pointy apexes (in its A, N, and W) offering a sparkling counterpoint to the upright candor of Gotham.
TIP: Changes in both weight and scale help to accentuate the differences between these pairs, and draw out the unique character of each design. Used together, Sentinel seems especially prudent and Archer especially happy; Verlag seems doubly elegant and Gotham twice as direct.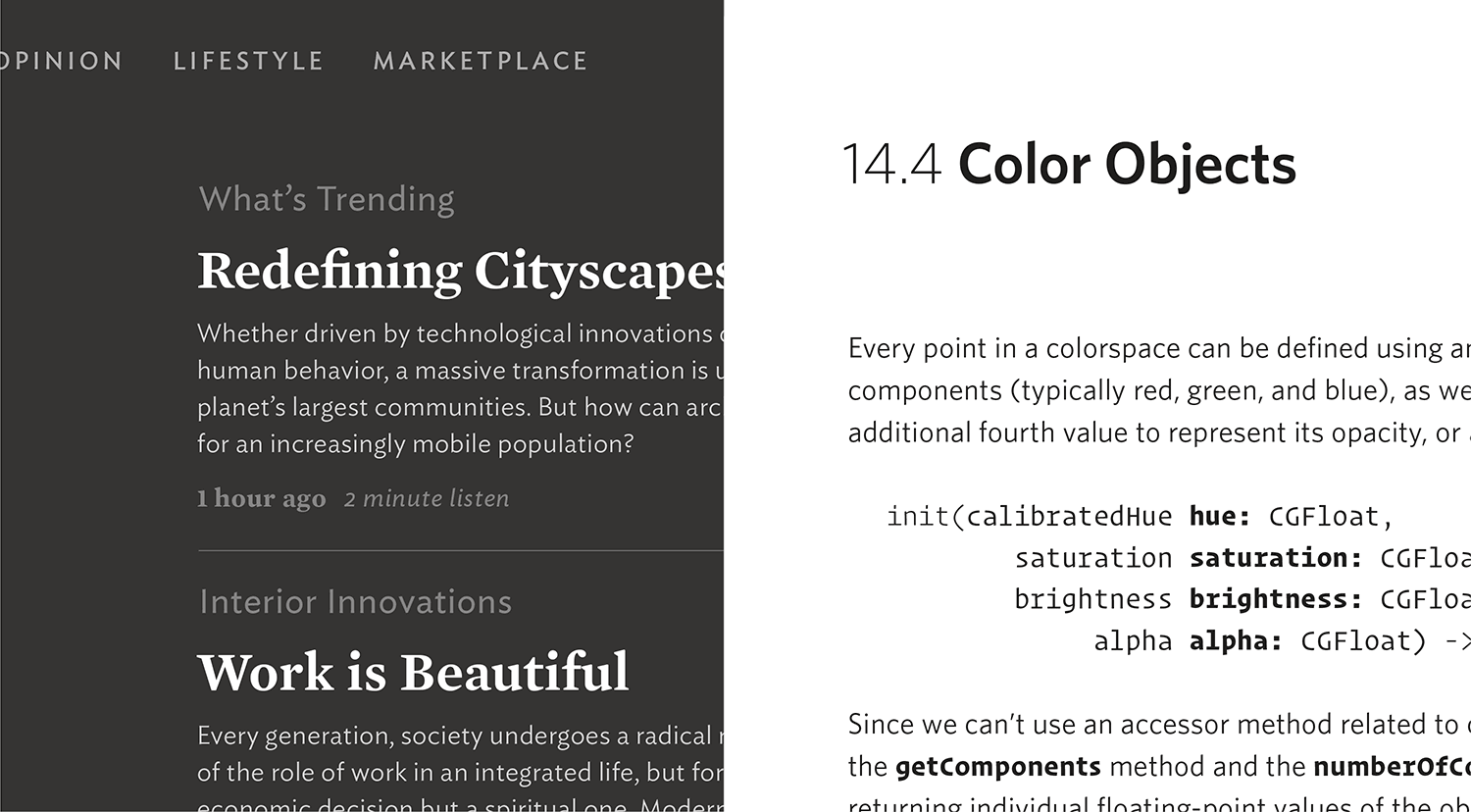 2. Create Practical Pairings

No task is more familiar to a designer than selecting two typefaces that can work hand in hand, each chosen to present a similar but distinctive kind of content. Text-heavy applications, whether printed or digital, often need two contrasting faces to highlight different kinds of information. A practical text face with a large x-height, such as Mercury Text, can be usefully matched by a sans serif with similar proportions, such as Ideal Sans. (Try a ScreenSmart font, even if you're working in print: their generous fit and open gestures make ScreenSmart fonts especially readable at text sizes — and at sizes smaller still.) And don't be bound to the convention of pitting serif against sans: if your body face is a sans serif workhorse like Whitney, try a more colorful sans serif alternative for contrast, such as Operator. Operator's taut curves and punchy gestures offer a nice counterpoint to the sobriety of Whitney, and the fixed-width Operator Mono can introduce a strikingly different rhythm that usefully contrasts with the text.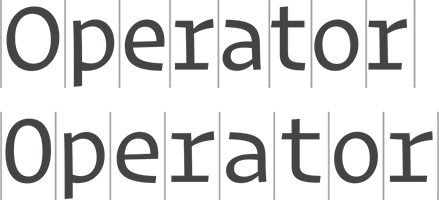 TIP: A fixed-width typeface like Operator Mono helps to quickly identify something as a computer program. But when the manuscript calls for highlighting a code fragment in the middle of a paragraph of text, switch to the font's natural-width cousin, Operator. Since Operator shares the same underlying design as Operator Mono, these bold keywords are instantly recognizable as pieces of code. But their more traditional rhythm of wide and narrow letters makes for a more comfortable read.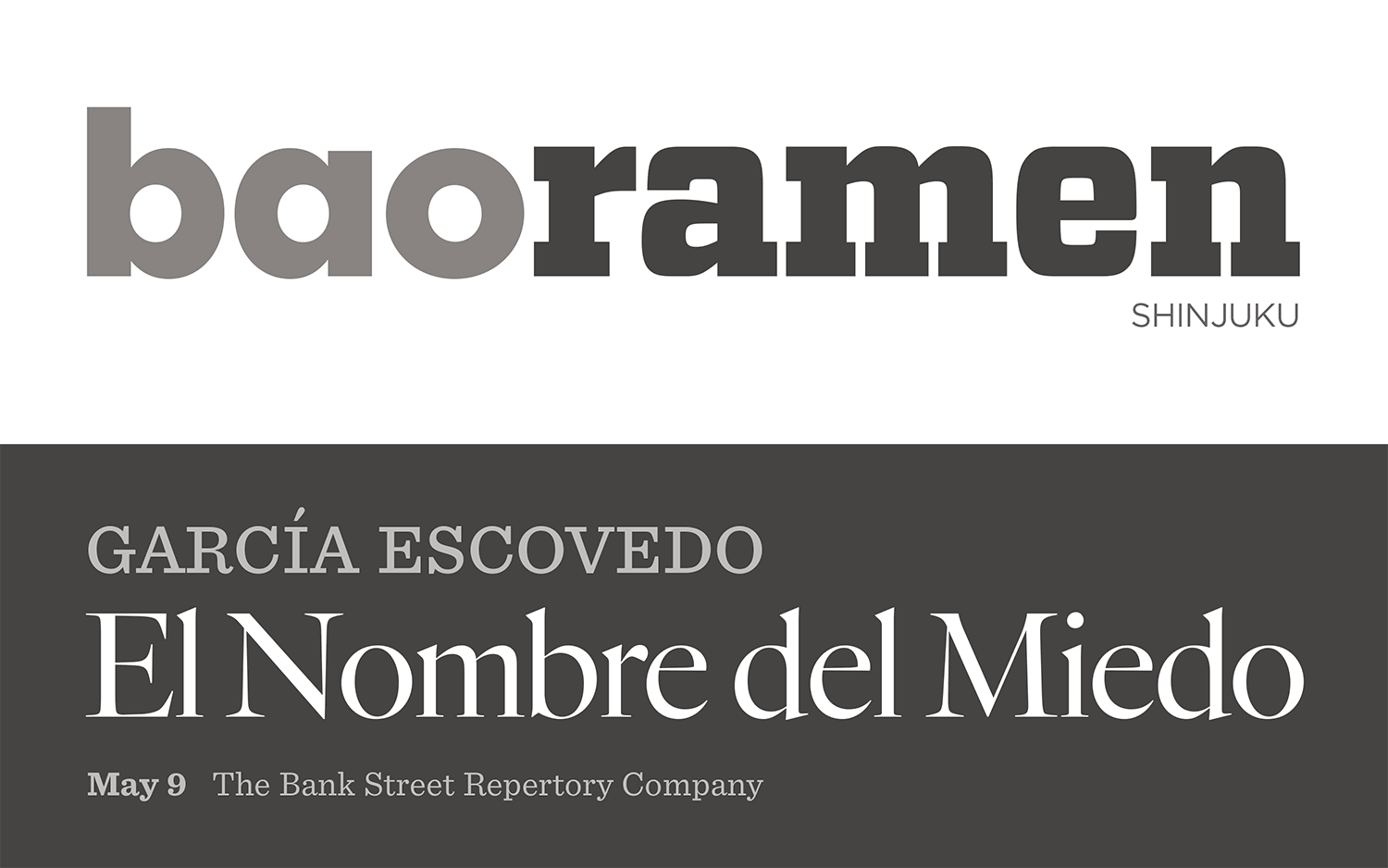 3. Strike Subtle Contrasts

Sometimes the most engaging combinations are the ones that aren't immediately apparent. Even though Gotham and Vitesse are manifestly different typefaces — one a sans based on the circle, the other a slab rooted in rounded rectangles — both fonts are equally dramatic in their use of geometry, and can be rendered in very similar weights. But typefaces don't need to share a common weight to be good comrades, especially if they're used at different sizes. Compared with the smaller Sentinel, the stems in Quarto are nearly twice as heavy, and its hairlines one-fifth as wide, differences that disappear when the reader sees each at its own set of sizes.
TIP: Rendering two contrasting typefaces with a similar fit can help close the distance between them. In both the examples above, careful thought has been given to the tracking of each typeface, with the intention of synchronizing the rhythm of letters and the spaces between them, even as the fonts themselves change.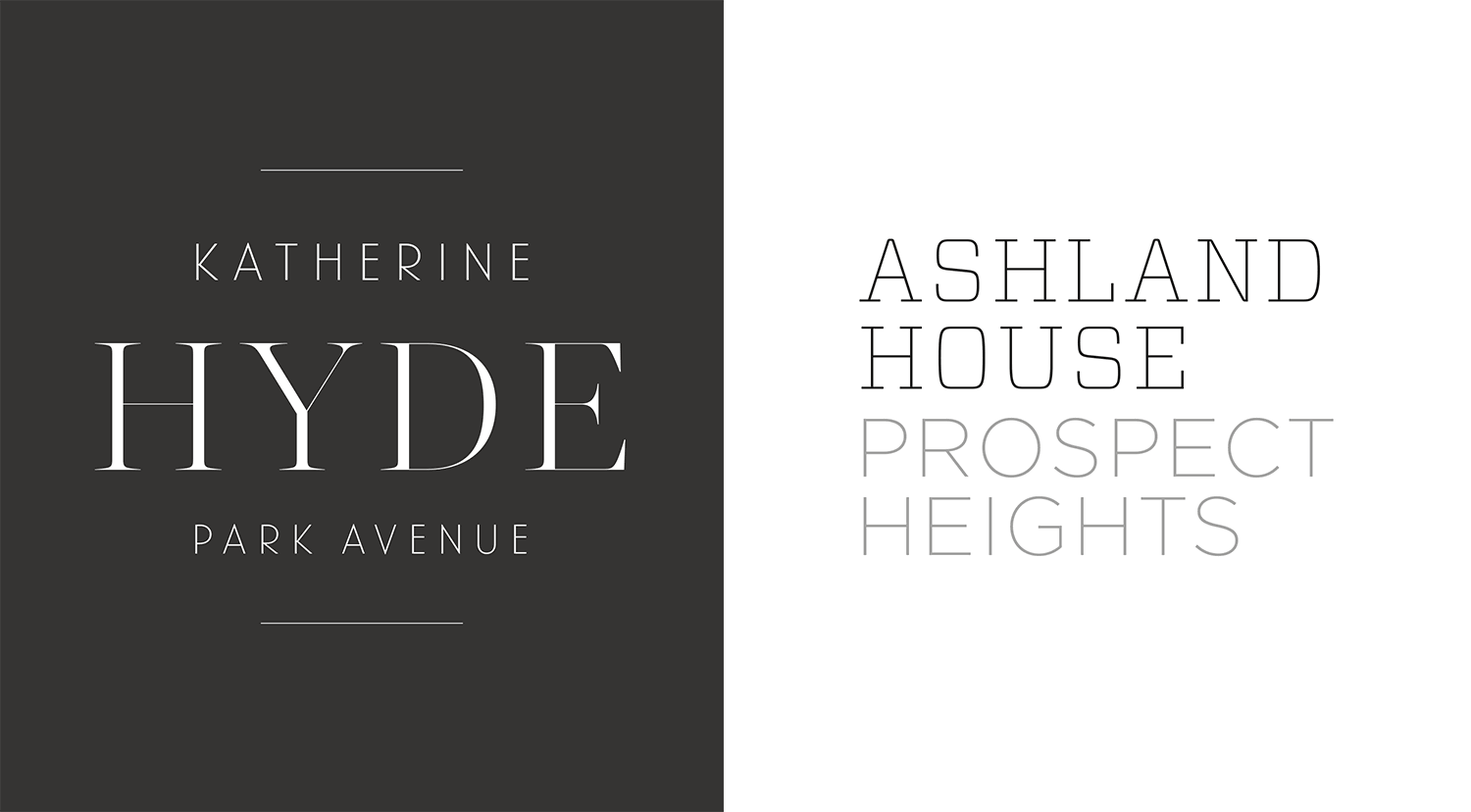 4. Assemble Elegant Duets

Whether a sans serif with finely-drawn strokes or a serif face with delicate hairlines, light typefaces have long been a mainstay of fashion and luxury typography. Many species of hairline fonts pair handsomely together, especially when additional motifs reinforce their elegance. Here, the "low-waistedness" of Landmark, clearest in its A, R, and K, gives the design a deco-era elegance, a smart counterpoint to the crisp and evenly balanced Chronicle Hairline. Another strategy is to match faces with both common weights and a common approach to construction, like the starkly geometric Vitesse and Gotham — which careful readers may have noticed, reversed, in the section above.
TIP: When working with hairline fonts, decide early what size each font is suited for: some can perform at large text sizes, others are best used only for the largest display typography. When evaluating a serif face such as Chronicle, look not only at the weight of its hairline strokes like the crossbar of its H or the thinner arm of its Y, but also the weight of its serifs. Serifs are often considerably thinner than hairlines, and it's these delicate gestures that will define how small the font can go.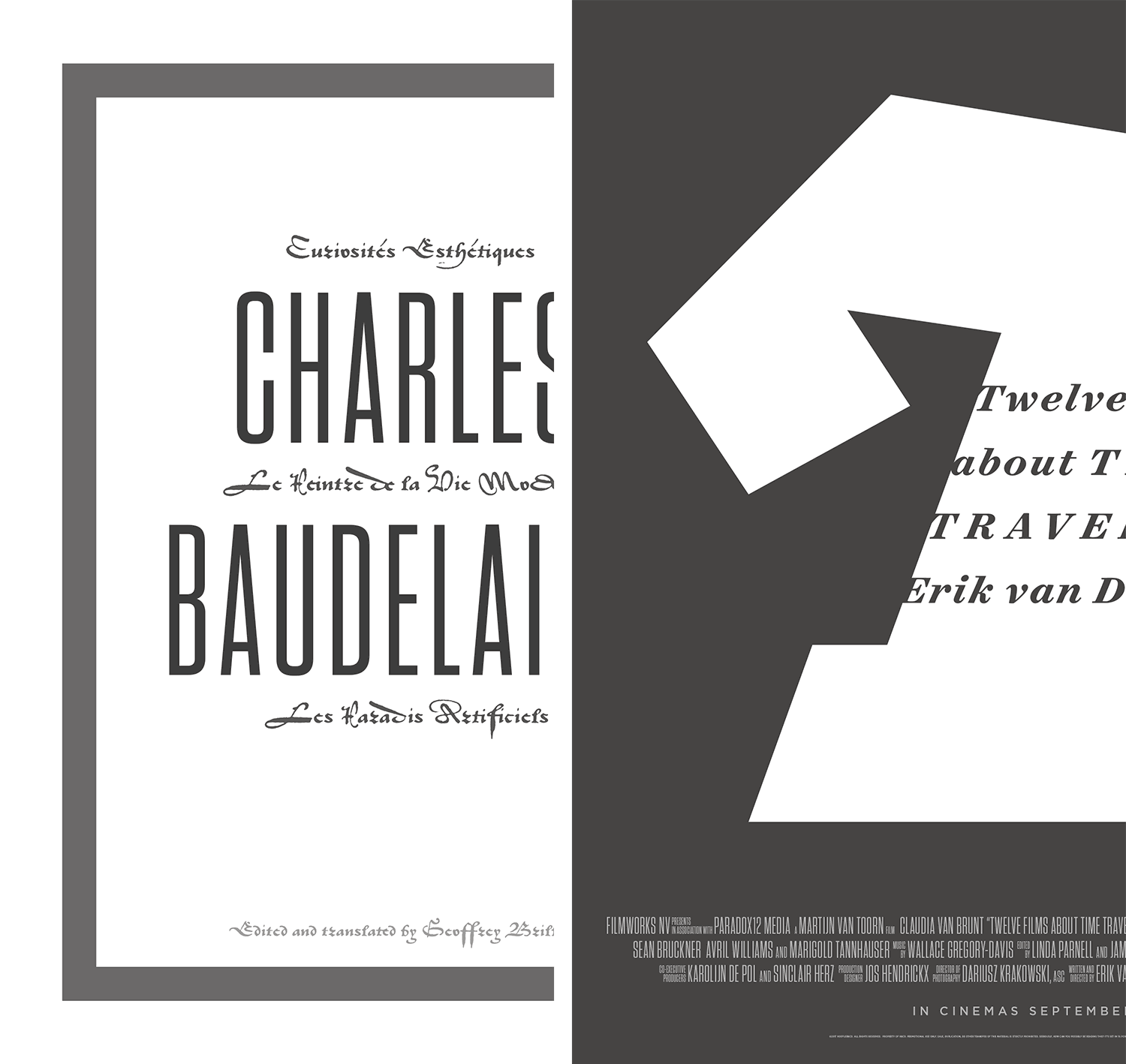 5. Introduce Strange Bedfellows

Some of the most dazzling typographic pairings — and certainly my favorites — are those that use unexpected fonts together. At left, the grey flannel suit that is Tungsten Compressed is paired with crimson silk doublet of the St. Augustin Civilité, a fiery sixteenth century typeface that demands a good foil. The contrast between Tungsten's restraint and the swashbuckling Civilité makes for a marvelous palette, and the contrasting proportions of these faces emphasizes the solemn verticality of one and the racy horizontality of the other. At right, the unconventional Acropolis Italic, made only of straight lines, meets the energetic Surveyor Display Italic, a typeface without a single straight line. Lending the fonts extra cohesion is their insistent angle of incline: both lean forward considerably more than a typical italic.
TIP: Keeping eccentric typefaces at arm's length helps accentuate their uniqueness, something that's easiest to do by segregating each font by size. In these examples, each typeface is assigned a specific range of sizes that's free of other fonts, a clear and inviolate 'altitude' that further distinguishes its role in the design. —JH