Table settings.
Proportional figures for text, fixed-width figures for tables, fractions and symbols and more. They're all inside, and in four different widths.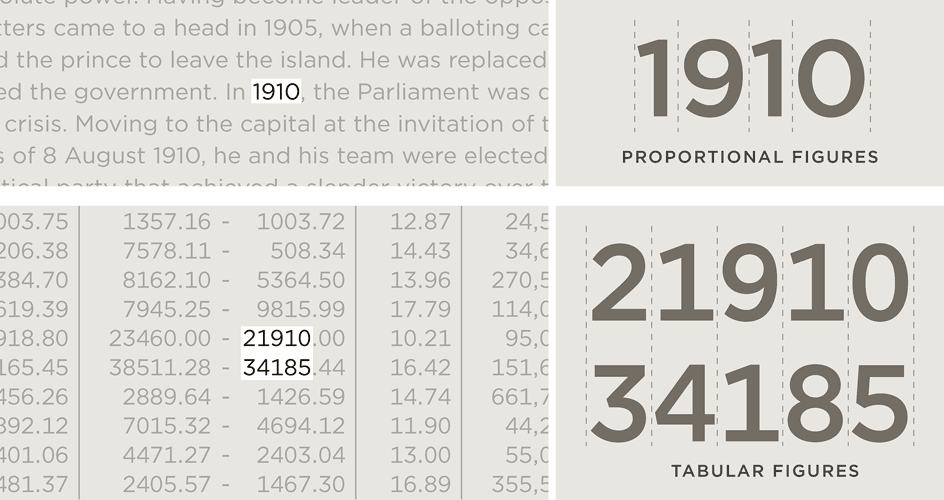 Like letters, numbers are proportional: they vary in width according to their shapes, from the narrow 1 to the wide 0. These variations help numbers sympathize with the natural rhythms of the alphabet, making their appearance in text less conspicuous. But this practice introduces problems when used for tables, since the width of each number will vary depending on its digits. Enter tabular figures.
In addition to its standard proportional figures, OpenType versions of Gotham include tabular figures, numbers built on a fixed width to ensure that columns of data align correctly. All four of Gotham's widths include roman and italic tabular figures in the core styles Light, Book, Medium and Bold, and the regular width Gotham additionally includes them in its Thin, Extra Light, Black and Ultra weights. In each width, Gotham's tabular figures maintain the same horizontal dimension across all weights, an essential feature when using boldface to highlight an entire line, as is common in stock listings and sports statistics. Also built around common widths are Gotham's fractions, monetary symbols, and mathematical operators, so that a price expressed in dollars won't affect the grid when the currency is recalculated in Euros.

Tabular Figures: Gotham
Gotham's tabular figures are as clear and readable as the rest of the font, without suffering the distortions so often common in tabular sans serif numbers. Above, a pricelist in Gotham Book uses the Bold weight to highlight a particular line; the uniform width of figures in both weights preserves the integrity of the grid.

Tabular Figures: Gotham Narrow
Since they were designed for text, the core styles in Gotham Narrow naturally include tabular figures as well. The compact proportions that make Gotham Narrow so space-efficient for text also make its tabular figures useful for multicolumn layouts like this scorecard, which depend on clear rivers of whitespace to help readers tell one datapoint from the next.

Tabular Figures: Gotham Extra Narrow
The tabular figures in Gotham Extra Narrow are especially well suited to tables featuring very long numbers, such as financial statements, catalogs, technical notes, and annual reports. The italics in Gotham Extra Narrow are slanted enough to be identifiable at small sizes, offering designers an additional way to call out specific lines of data.

Tabular Figures: Gotham Condensed
Listings that force truly long numbers into narrow columns can rely upon Gotham Condensed, whose tabular figures remain clear and readable even at small sizes. At the Condensed end of the family, Gotham introduces different approaches to the design of stroke endings and apertures, as part of a strategy to ensure that tabular figures are both highly legible and visually consistent from weight to weight.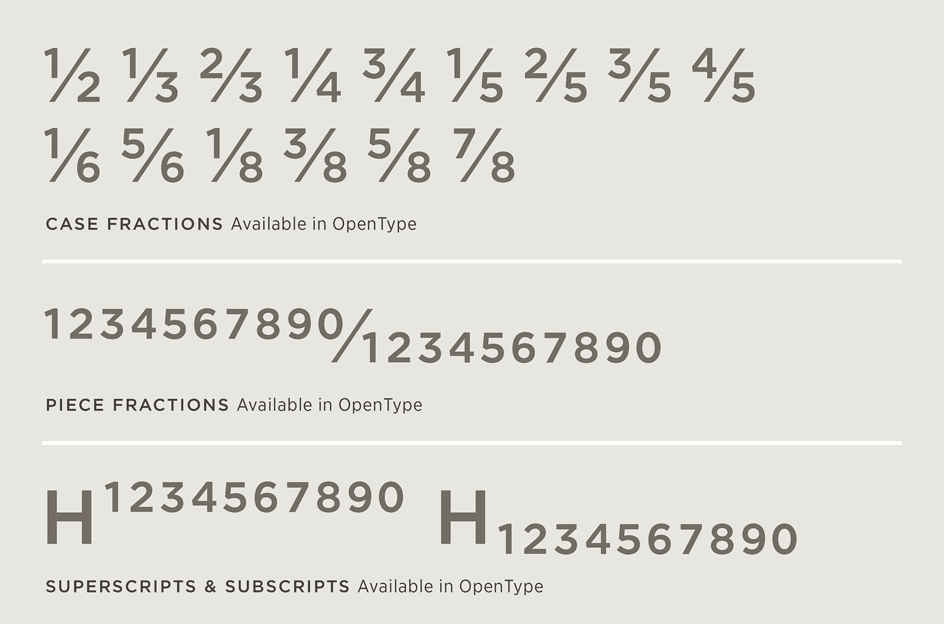 Fractions
Styles that include tabular figures also feature "case fractions" in denominations of halves, thirds, fourths, fifths, sixths, and eighths. These fonts also include a full set of numerators and denominators, all properly kerned to the fraction bar, for creating custom fractions. OpenType versions of Gotham also include superscripts and subscripts, useful for both footnotes and scientific formulae.
Extended Monetary Symbols
In addition to the standard monetary symbols included in all Hoefler & Co. fonts (dollar, Euro, pounds sterling, yen, guilders, and cents), OpenType versions of Gotham fonts include an additional eight symbols for the Baht, Colon, Naira, Peso, Rupee, Rupiah, Won, and Sheqel.