Hoefler Text Special Characters
Hoefler Text includes a wealth of special characters, included to help designers articulate and decorate text.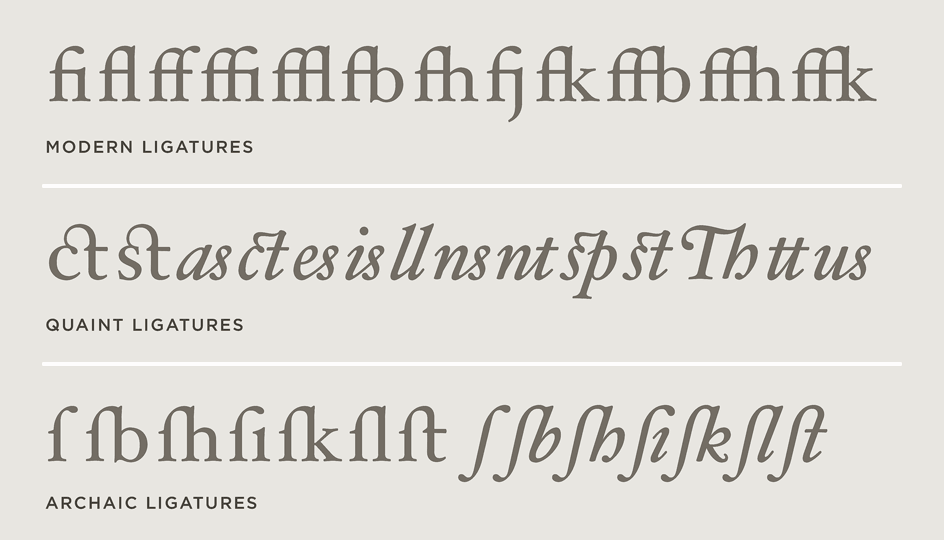 Extended Ligatures
In addition to the standard ligatures provided with all Hoefler & Co. fonts, Hoefler Text includes an extended set for pairs which are more obscure, but just as useful (fb for 'surfboard,' fj for 'fjord,' etc.) Also included is a set of quaint ligatures, not required in most circumstances, but useful in decoration. Finally, for historical settings, a 'long-s' is included, along with its retinue of long-s ligatures.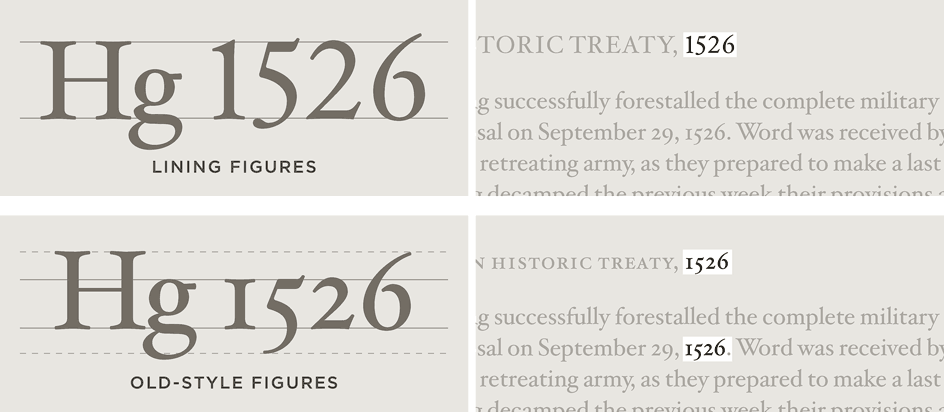 Figures
Old-style figures, also known as 'ranging figures' or 'non-lining figures,' are provided as the default for each typeface, but lining figures are also included in each design's alternate font, for composition with all capitals.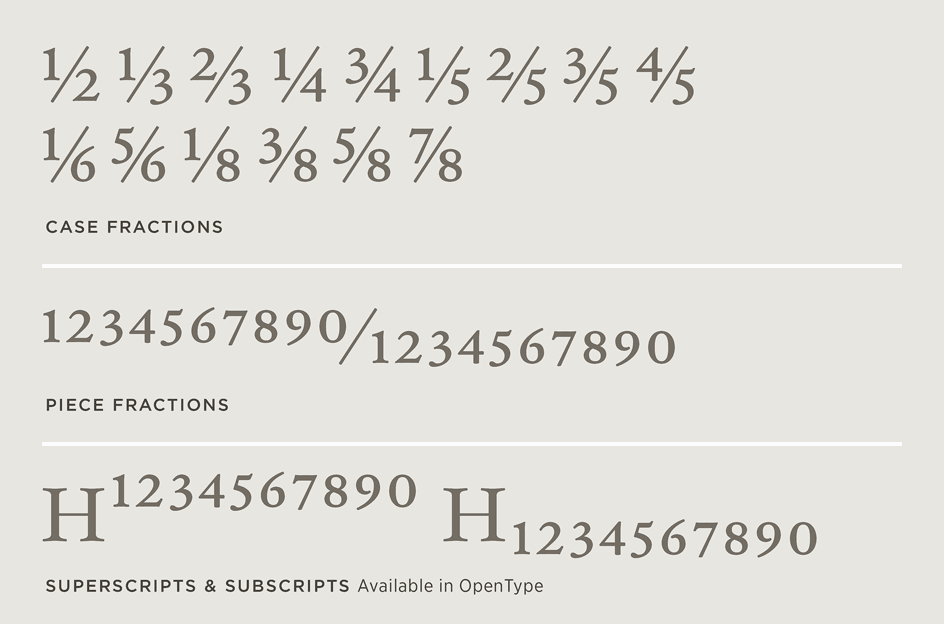 Fractions
Each of the fonts includes readymade "case fractions" in denominations of halves, thirds, fourths, fifths, sixths, and eighths. Also included is a full set of numerators and denominators, all properly kerned to the fraction bar, for creating custom fractions. OpenType versions of Hoefler Text also include superscripts and subscripts, useful for both footnotes and scientific formulae.

Math Characters
In order to make way for more widely used characters such as like alternates and ligatures, the math characters have been offloaded into the alternate fonts. These characters have been specially drawn to match the proportions of the typeface.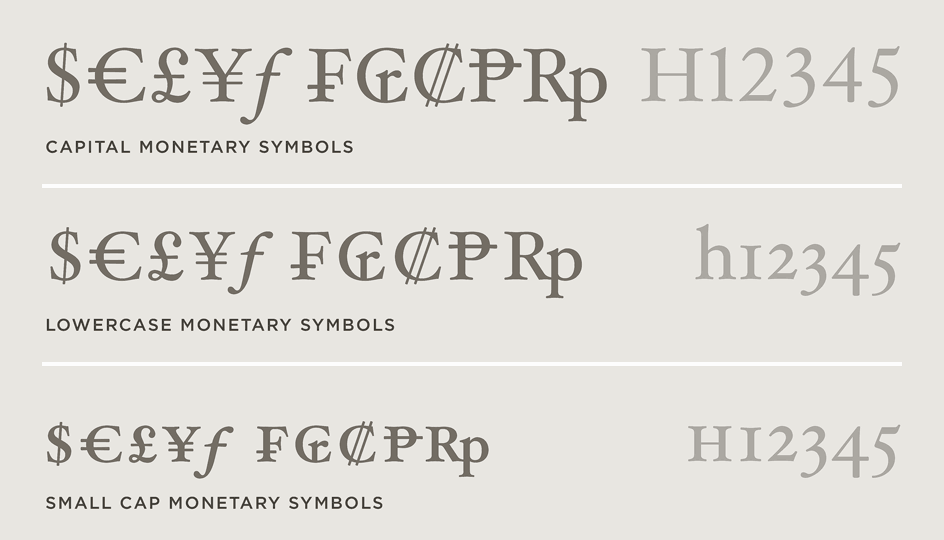 Extended Monetary Symbols
In addition to the standard monetary symbols included in all Hoefler & Co. fonts (dollar, Euro, pounds sterling, yen, guilders, and cents), Hoefler Text include an additional set of symbols for the Franc, Cruzeiro, Colon, Peso and Rupee. Each of these characters comes in three sizes, for use with caps, lowercase, and small caps.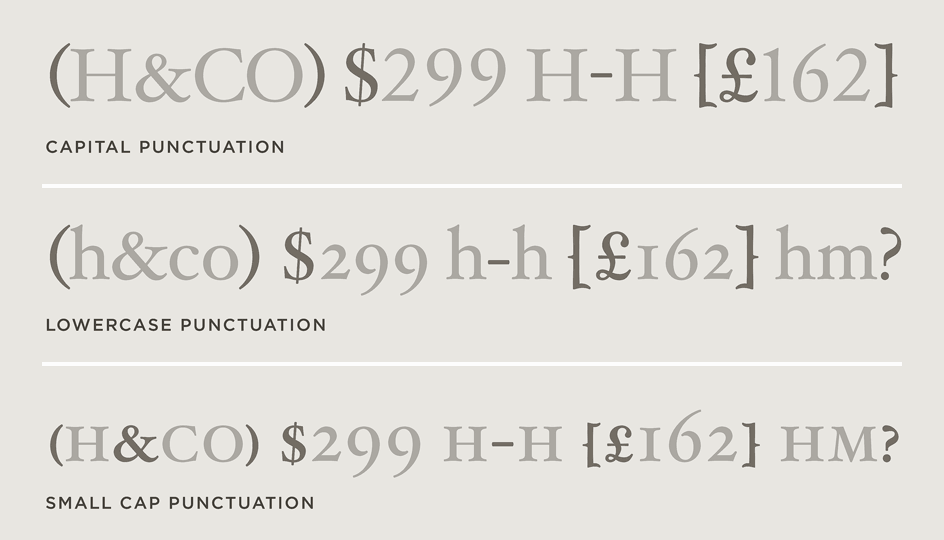 Contextual Punctuation
Similarly, Hoefler Text includes three sets of punctuation — parentheses, brackets, braces, monetary symbols and commercial marks — designed to match the alignments of the capitals, the lowercase, and the small caps.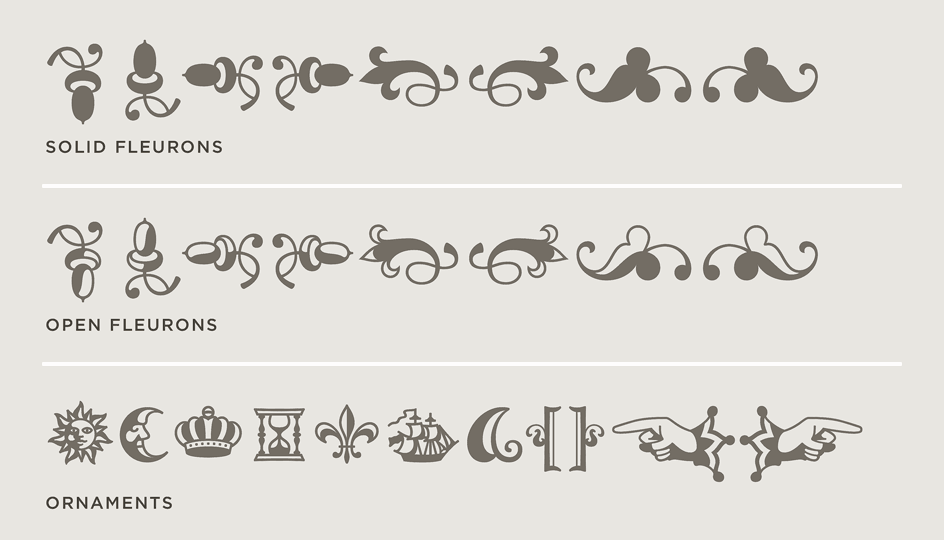 Fleurons & Ornaments
In addition to its arabesques and patterns, the Hoefler Text Fleurons typeface contains twenty-seven ornaments intended for book work: sixteen decorative flowers (six designs in various iterations), seven emblems, a pair of decorative brackets, and a pair of pointing fists.