Numbers for every occasion.
Lining figures for titles, old-style figures for text, fixed-width figures for tables, and fractions and symbols — they're all inside.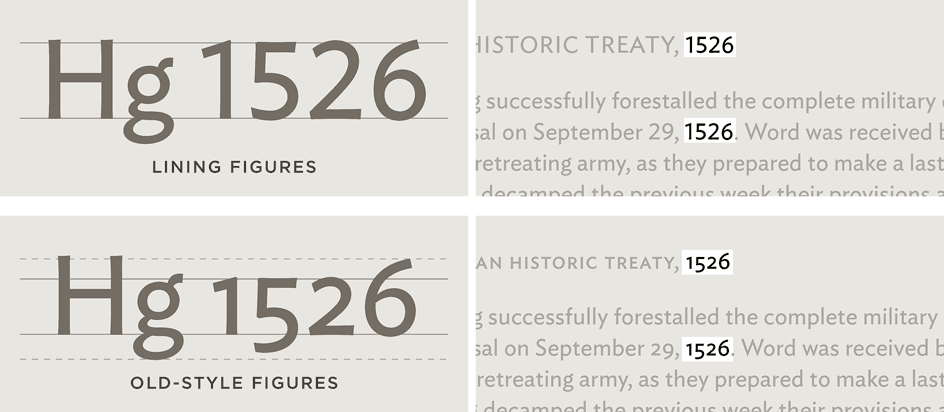 Lining and Old-Style Figures
Lining figures, standard in all editions of Ideal Sans, are designed around the shapes of the uppercase. While lining figures are always recommended when setting in all caps, the lining figures in Ideal Sans have been designed to a proportion that makes them attractive and useful in upper- and lowercase setting as well — especially useful in situations where old-style figures might seem quaint.
Old-style figures, also known as "ranging figures" or "non-lining figures," are numbers whose shapes are designed to harmonize with the proportions and rhythm of the lowercase. Old-style figures, intended for use in upper- and lowercase text, are essential when accompanying small caps; they're especially useful for postal codes which contain both letters and numbers. Both old-style and lining figures are standard in every edition of Ideal Sans.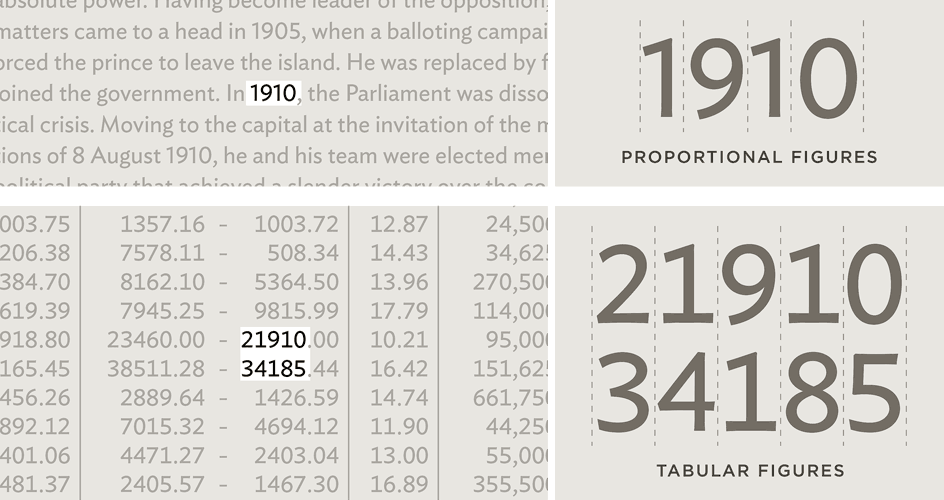 Tabular Figures
Like letters, numbers are proportional: they vary in width according to their shapes, from the narrow 1 to the wide 0. These variations help numbers sympathize with the natural rhythms of the alphabet, making their appearance in text less conspicuous. But this practice introduces problems when used for tables, where the alignment of columns is paramount. Enter tabular figures.
In every weight of Ideal Sans, we've designed a full set of tabular figures, built on a fixed width to ensure that columns of data align correctly. Tabular figures are included in each of the Ideal Sans Pro editions, as well as the Ideal Sans Complete package.

Duplexed Weights and Symbols
The tabular figures in Ideal Sans maintain the same character widths throughout the complete range of weights and styles, an essential feature when using boldface to highlight an entire line (common in everything from stock listings to sports statistics.) In each style of Ideal Sans, the fractions, monetary symbols, and mathematical operators are built on identical widths, so that a price expressed in dollars won't affect the grid when the currency is recalculated in Euros.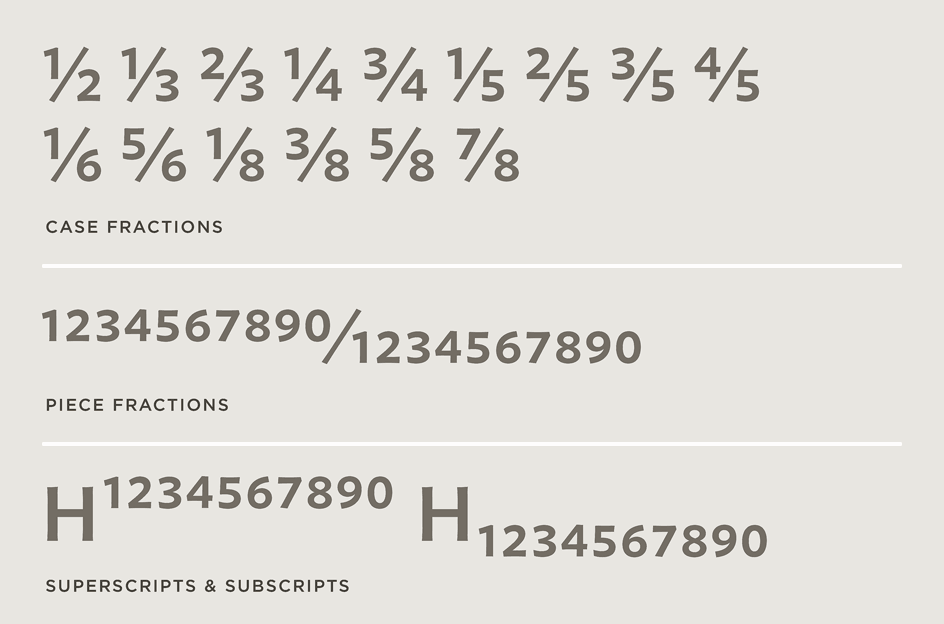 Fractions
The Ideal Sans Pro and Complete packages include readymade "case fractions" in denominations of halves, thirds, fourths, fifths, sixths, and eighths. Also included is a full set of numerators and denominators, all properly kerned to the fraction bar, for creating custom fractions. Superscripts and subscripts are included in every style, useful for both footnotes and scientific formulae.

Extended Monetary Symbols
In addition to the standard monetary symbols included in all Hoefler & Co. fonts (dollar, Euro, pounds sterling, yen, guilders, and cents), the Ideal Sans Pro and Complete packages contain an additional eight symbols for the Baht, Colon, Naira, Peso, Rupee, Rupiah, Won, and Sheqel.