Stylistic Sets
Inkwell takes advantage of Stylistic Sets, an OpenType feature that makes it easy to transform text with a single click.
Many fonts contain stylistic or functional variations of individual glyphs, commonly known as "alternates." When using such fonts, designers have traditionally had to hunt for these characters in a vast palette of glyphs, from which individual characters could be inserted, one at a time, into the text. OpenType fonts, when used in a type-savvy application, offer a much more convenient approach: related alternates can be grouped together as "Stylistic Sets," which when activated will render all the changes at once, throughout the selected text. Below are some of the Stylistic Sets we've created for Inkwell, accessible in the Adobe Creative Suite, Try.typography, the Cloud.typography webfont dashboard, and other supporting applications.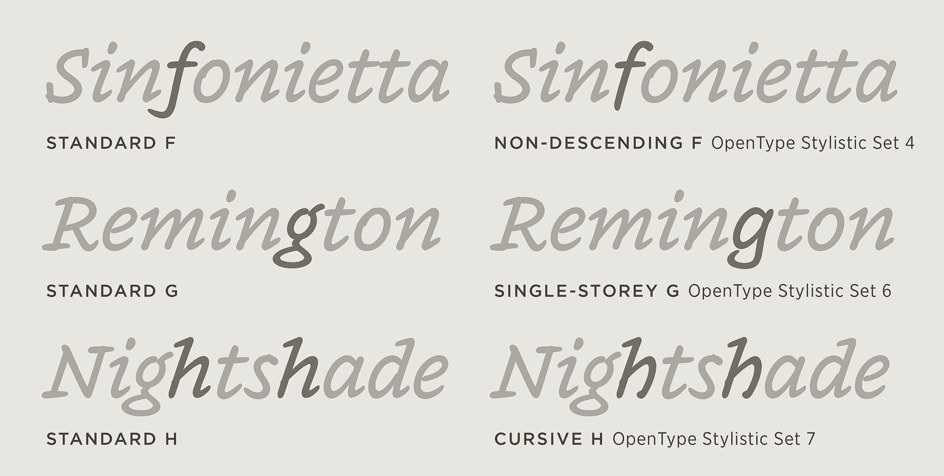 Serif Italic Alternate Forms
The Italic weights of Inkwell Serif includes three cursive variations: a non-descending f available as Stylistic Set 4, a single-storey g in set 6, and a cursive h in set 7.

Sans Roman Alternate Forms
Simplified versions of the lowercase a and g are included in Inkwell Sans. Its roman styles can invoke the single-storey a through Stylistic Set 3 (the corresponding italic letterform is single-storey by default.) In both the roman and italic styles of Inkwell Sans, the single-storey g is introduced through set 6.

Sans Italic Alternate Forms
The italics in Inkwell Sans feature a racier non-descending f as a default, though a more florid version with the descending swash can be substituted using Stylistic Set 5. In both the roman and italic styles of Inkwell Sans, the single-storey g can be introduced through set 6.

Script Alternate Forms
Inkwell Script features two alternate forms of its capital P and Y, accessed through Stylistic Sets 3 and 4.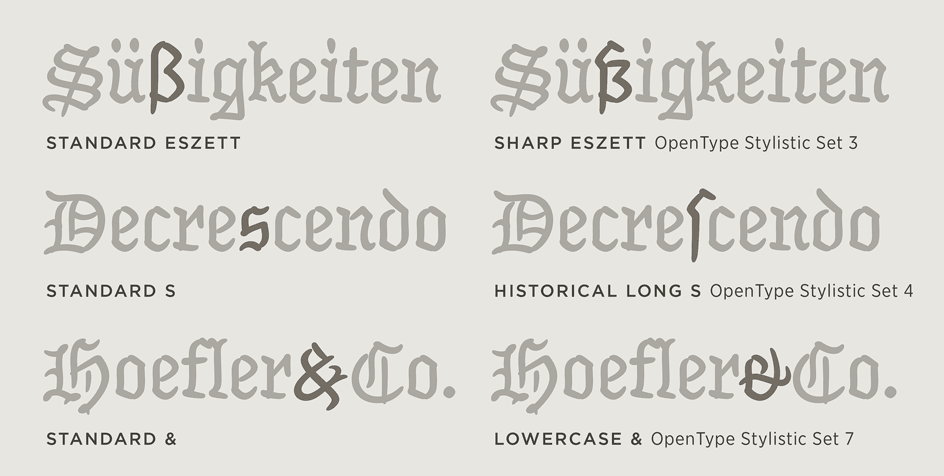 Blackletter Alternate Forms
Inkwell Blackletter contains three Stylistic Sets featuring visual, historical, and functional substitutions. Set 3 substitutes a 'sharp' version of the eszett (ß) for setting German. Stylistic Set 4 replaces the modern 'short' s with the archaic descending form, and observes the customary rules that prevent it from appearing at the ends of words, or when adjacent to the lowercase f. Set 7 replaces the full-height ampersand with one patterned after the lowercase, an option for upper- and lowercase settings.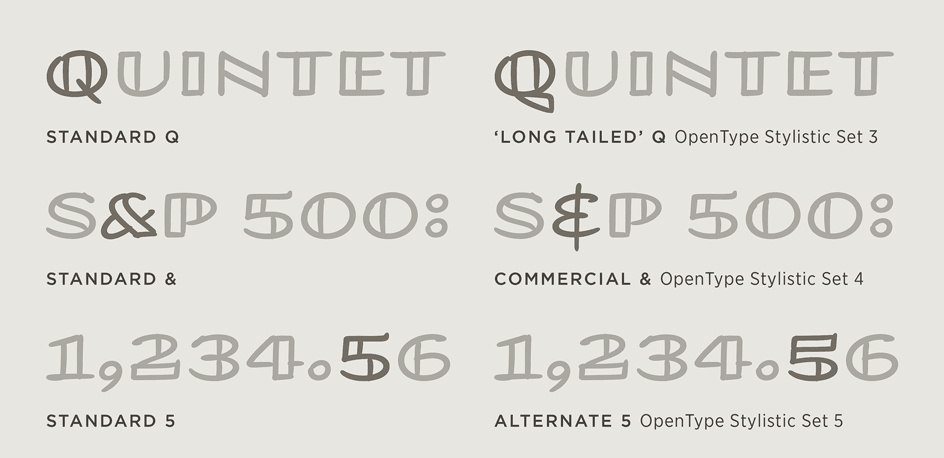 Open Alternate Forms
Inkwell Open features three alternate characters that can be controlled through stylistic sets: a variant for the Q accessible in set 3; a 'commercial' ampersand, modeled on signpainting, available in set 4; and a variation of the figure 5, with a horizontal stroke that echoes the design of the figure 2, in set 5.

Open Compact Umlauts
Compact variations of the umlauts to accompany the capital A, O, and U in Inkwell Open are available in Stylistic Set 6.

Raised Colon
In its standard position, the colon sits on the baseline, to align visually with the position and scale of the lowercase. Each style of Inkwell includes as Stylistic Set 2 an alternate design for the colon, which is raised to center on the capitals and the figures, an appropriate choice when setting timetables.

Registered Trademark Symbol
The standard symbol for a registered trademark is superscripted, to align with the symbols for trademark and servicemark. Inkwell includes an alternate form that matches the height of the copyright and publishing symbols, available through Stylistic Set 1.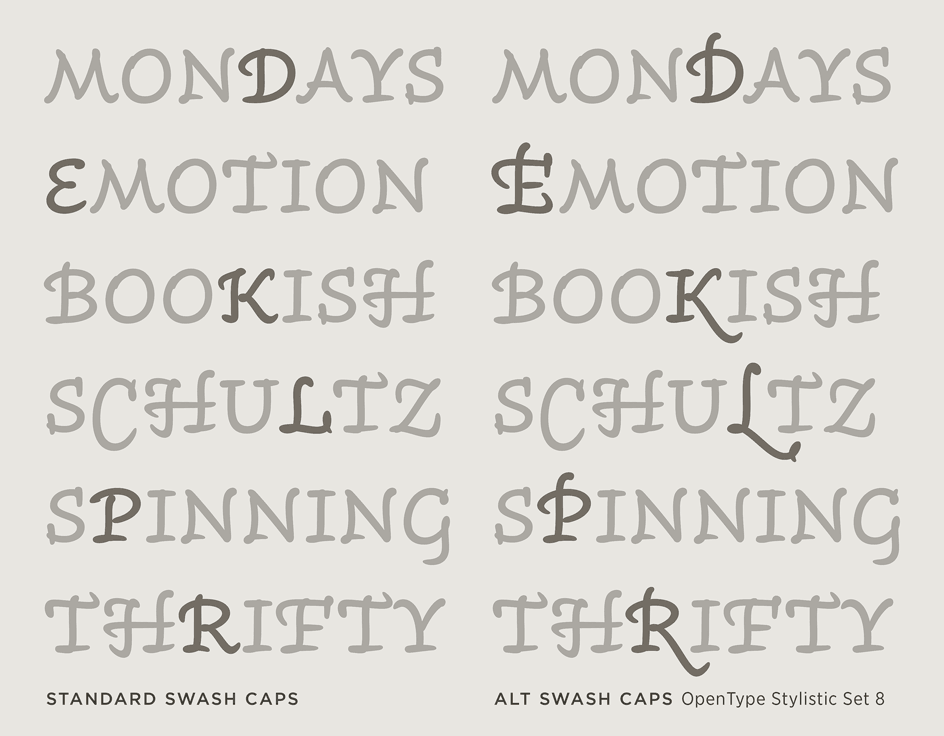 Serif Alternate Swash Caps
The swash caps included in Inkwell Serif Roman are provided with six ascending and descending alternates, accessible in Stylistic Set 8. These characters are designed not only to be used as initials, when introducing capital, small capital, or lowercase words, but for medial use in words set in all caps, to create a more florid silhouette.