Ornaments
Inspired by a feature of renaissance engravings, Requiem contains a collection of self-contained "cartouche" alphabets in two different sizes, one for text and one for display.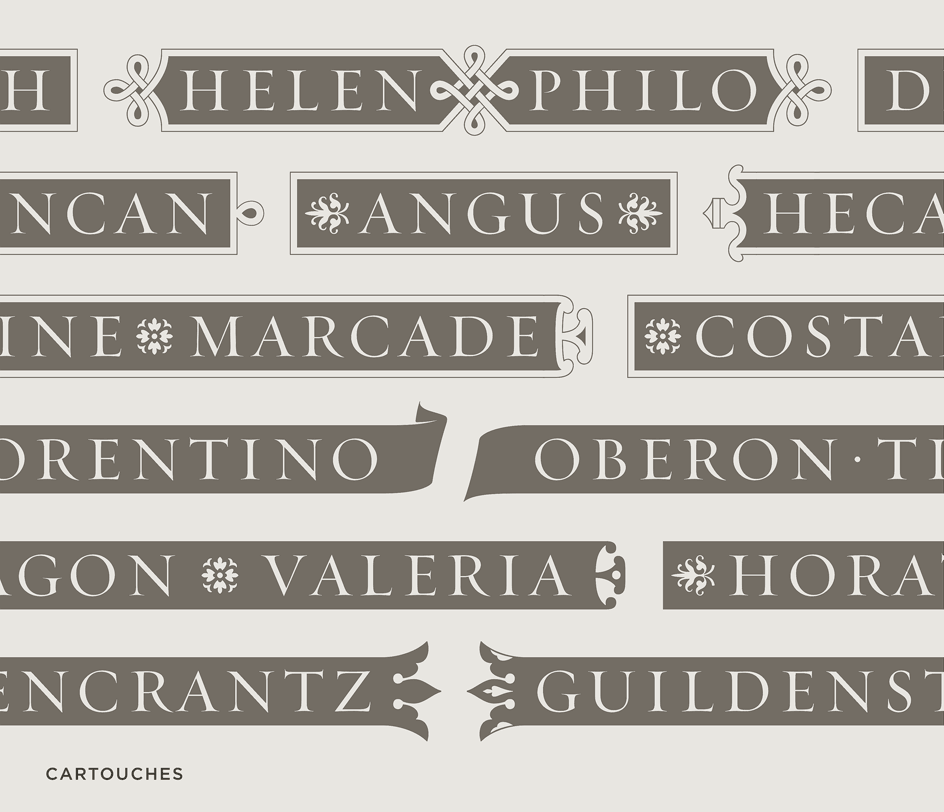 In many of the sixteenth century writing manuals, interleaved between the pages of instructional lettering were flamboyant frontispieces. A common device was to inscribe simple geometrical forms, reminiscent of renaissance façades, and embellish them with ornate mannerist details — decorative scrollwork, heraldic or architectural motifs, or stylized floral patterns. Rather than replicate their forms, or limit designers to their not especially useful proportions, Requiem includes a set of cameo alphabets contained within "cartouches," which can be capped with a collection of different flourished endings.

Also inside are a small collection of period printers' flowers, inspired by the same sources. The Arrighi writing manual Il Modo, which inspired Requiem's alphabet, contains few of them; these are inspired by the work of Arrighi's contemporaries, chiefly forms in the 1554 Opera of Vespasiano Amphiareo (1501-1563), and Libro nuovo d'imparare a scrivere (1540) by Giovanni Battista Palatino (c. 1515-1575+).